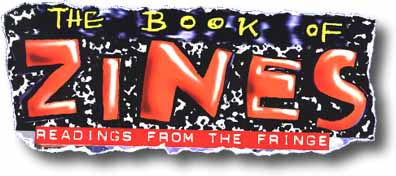 K.A. Laity
Other Voices, v.1, n.2 (September 1998)

---
Copyright © 1998 by K.A. Laity, all rights reserved

---
This is a great place for the novice to begin, full of useful advice as well as a great many success stories. Of course success in the zine world is rarely a rags-to-riches story; rather it consists of getting past the six-month mark, finding distribution and meeting like-minded folks. Much of what you'll need to enter the zine scene can be found at this site or by pursuing its links to others.
Perhaps one the best things about this site is that it lacks attitude: unlike say, Factsheet 5 where one gets the impression that there is a "right way" to make a zine (and a "right kind" of zine to make), The Book of Zines simply offers up the voices of experience. Of course the selection of contributors indicates editor Chip Rowe's assessment of quality, but no particular bias becomes immediately apparent other than his familiarity with a broad range of creators.
The first stop is the "Zine & E-zine Resource Guide," a massive list of resources for production, publicizing and networking. The "essential sites" are a surprisingly short list of helpful sites that include such old-timers as Atomic Books and Factsheet 5. Perhaps the most useful link for the novice zinester is Chip Rowe's "How to Publicize Your E-Zine" (the emphasis on e-zines vis-à-vis print remains a bias of the web, but a lot of the information here can help creators of either type of zine), which offers links to submit your zine information to dozens of on-line lists. This page also explains how to submit your zine to search engines to be sure that you get the hits you deserve.
The heart of this site, though, has to be the articles that bring together the people who know the zine world from the inside. This includes all levels from big-time publications like The Utne Reader and Salon to the smaller but still well-known zines like Action Girl, Crank and Ben is Dead. To get the "Big Picture" on the zine scene, read any one of the pages in that section: highly recommended -- Sarah Dyer's "Questions and Answers about Zines" which includes a link to her comprehensive "Zine-o-rama" page at her inspiring Action Girl site.
Many creators consider controversy to be the essential nature of the zine world; after all, most zines burst into existence to address issues ignored by mainstream media, whether it be truly alternative music, queer identity, government conspiracies or the care and feeding of sea-monkeys. The "Controversies" section shows the breadth of these concerns -- as well as the ever-present risk of the ultimate zine faux pas: selling out. This issue gets addressed in several links: Larry Smith's "What Color is Your Alternative?", Chicago New City's "Zine Books: The Big Sell Out?" (it may be good to remember that The Book of Zines site arises from and promotes a book of that title) or David Futrelle's "Zine Books: Been There, Zine That." A cautionary tale for those who wonder whether they have the commitment to make a zine can be found in Jamesy's "Zines Suck." All this just goes to show the lively debate and freedom that characterize the zine community -- a freedom that many zinesters use to create their own set of rules and declare everyone else null and void. There are so many routes to empowerment!
If you have begun to lose your enthusiasm, a trip through the "History" section will give you some perspective: this is a long-standing tradition, not just a Nineties fad. One of the best articles in this section is Heath Row's "From Fandom to Feminism: An Historical Analysis of the Zine Press" which gives an excellent overview of the zine's roots in science-fiction fandom and the Sixties/Seventies feminist organizations. Following closely is the "Humor" section; unfortunately there are only two offerings, though Rowe's own "History of Zines" gives a few chuckles, particularly in its predictions of the future, and Brat Attack's "Ten Reasons Not to Do Your Own Zine" may steer away the faint-hearted, but you will find your zest for zines rising again.
The "Interviews & Profiles" are far too few, but the people here provide an interesting cross-section: Jim Goad of Answer Me! talks about his arrest on "felony distribution of lewd material for profit"; Pagan Kennedy of Pagan's Head discussions the advantages of bathroom reading for promotion; and Zine Queen Cheryl Townsend advises zinesters to "find a great job." The stories here are engaging and inspiring. It is truly a shame there aren't more, though the "What Zines Mean" section contains more inspiring stories along these lines.
There are more sections on the practical issues: "Catalogs & Distributors" you can contact when your zine is ready for the world; a "Comics" section that addresses that particular facet of the self-publishing world (one of the largest); a section on "Copyright" to guide you through the legalities and to help avoid unnecessary hassles; a list of "Gatherings" (both actual and virtual) of zinesters, so you don't have to go it alone all the time; but the best section, "Roll Your Own," gets down the actual production of your zine with helpful tips for both print zines as well as e-zines. These tips run the gamut from general helpful ideas ("So, You Want to Start a Zine?" by Steven Svymbersky) to wonderfully detailed how-to instructions on every aspect of zine-production ("A Quick and Dirty Guide" by K. Kimberly Prosser & Lisa Swope or "Technical Tips for Zine Makers" by Global Mail). The information here is so comprehensive, you can go from knowing nothing about the zine world to having your first issue in hand just through reading these tips. That these creators have taken the time to assemble all this helpful information (and save others from making the same mistakes) says a lot about the DIY, "we're all in this together" attitude of the zine community -- well, when they're not accusing one another of selling out.
Like all zine sites, The Book of Zines suffers from a certain cliquishness, but such in-bred connections are part of the word-of-mouth system that links these small publications together. The site has far less off-putting attitude than many sites, which makes it ideal for the person who wants to know what the "zine scene" is all about. The practical tips are particularly useful for the novice zinester, but the interviews and success stories make interesting reading for almost anyone interested in creativity and ideas in the late Twentieth century.





Click Here to order the print version of Chip Rowe's The Book of Zines: Readings from the Fringe from Amazon.com
Error. Page cannot be displayed. Please contact your service provider for more details. (25)