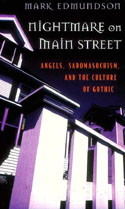 Wrap Doom in Brown Paper and Tie It Up With String: Packaging Gothic for Mom 'n' Pop America
Review of Mark Edmundson, Nightmare on Main Street: Angels, Sadomasochism, and the Culture of Gothic. Cambridge/London: Harvard UP, 1997. pp. xviii + 190. ISBN 0-674-87484-6. (cloth)
Jimmy Dean Smith
Other Voices, v.2, n.2 (March 2002)

---
Copyright © 2002, Jimmy Dean Smith, all rights reserved.

---
Pigeonholing the inscrutabilities of the Columbine High School shootings, culture entrepreneurs from Jann Wenner to Armstrong Williams, from Bill Clinton to Newt Gingrich, repeatedly identified the root causes of two sociopaths' rampage as—no surprise here—the particular cultural maladjustments each had been warning us about for years. Wenner claimed that the massacre symbolized American gun culture, Williams that we harvested the fruits of a garden gone rank since the mainstream gave in and adopted '60s countercultural norms. And Lamar Alexander said that the shootings had to do with taxes.
Repeatedly, culture journalists looking for both easy answers and sexy stories struck upon the term gothic, a marketing term commodifying an identically named but more vigorously transgressive sub-genre of early-eighties post-punk. After Littleton, glowering Goth kids—many, if not most of them, bourgeois poseurs with the time and finances to strike a Halloween pose every day, though with little of the intellectual imagination of their antecedents—photographed terrifically and, in the likes of Anne Rice and Trent Reznor, Goth seemed to have creepily media-savvy spokespeople. Middle-class readers of the major newsweeklies scoured their children's closets for black trench coats and wondered whether they ought to worry about Marilyn Manson after all. Beneath the panic, brief though it was (soon even U.S. News and World Report informed readers that most Goths were nonviolent), lay recognition that American culture flows in channels other than the mainstream. And, perhaps inadvertently, popular media nearly got their terms right.
We want someone—media, politicians, clergy, anyone—to commodify the abhorent for us, to pat it and wrestle with it and force it into a tidy package that we can purchase and stick somewhere on an intellectual shelf. Mark Edmundson notes one particular manifestation of this leveling urge in nineties America. He gathers the violent and uncanny impulses apparently broadcast throughout the middlebrow adolescent psyche under the rubric "'90s Gothic entertainment," a category in his broader-ranging classification of America's premillennium tensions. A slim, eminently readable inquiry into Americans' fascination with, if not compulsion to, Dark Urges, Edmundson's Nightmare on Main Street: Angels, Sadomasochism, and the Culture of Gothic suggests why America is a network of Gothicisms and why "horror [has] reached prime time" (3). With an intellectual lineage including both Foucault and Wes Craven, both Freud and Tobe Hooper, Nightmare on Main Street may be one of the more demanding studies readers interested in either low- or highbrow Gothic will encounter; to do it justice, readers must have the same sort of intellectual flexibility and acumen that allows, say, viewers of Bill and Ted's Bogus Journey to get both the heavy metal album cover references and the Ingmar Bergman jokes or academic readers of The Crying of Lot 49 to catch Pynchon's rock 'n' roll riffs.
Edmundson wrote Nightmare on Main Street in response to recognizing a connection between his daily teaching assignments—Freud, Shelley—and the aggressively lowbrow genre horror videos he watched for his nights' entertainment. Several reviewers have latched onto this factoid as a narrative hook and have therefore turned Nightmare on Main Street into more of a stunt—mere popcriture—than it is. But Edmundson has more on his mind than simply mining his pastime for groovy-prof credibility. Instead, he attempts "broad cultural diagnosis ... a condensed vision of how things stand with America as the millennium nears, a vision that ... readers will be able to use in their own attempts to conceive the present and shape the time to come" (xvii-xviii). That Nightmare on Main Street does not entirely live up to the grandeur of these aims has something to do with the brevity of the book (it can be read in a sitting—not, for example, the days that its precursor Sexual Personae requires, a reading time that would reinforce Edmundson's argument for cultural pervasiveness). However, it does represent a significant, provocative introduction to one element of current culture, noting how Gothic suggests three different worldviews at large today: Gothic itself; easy, or facile, transcendence; and S&M culture.
Gothic, Edmundson writes, is "the art of haunting, the art of possession. The Gothic artist tries to grab hold of the reader, make it so he can't put the book down, can't think of anything else" (xi). Edmundson does not seem to recognize, or at least to argue for, all new media's enormous contribution the current paranoid style—for example, he does not emphasize how voraciously either the Internet or confrontation radio or twenty-four-hour-a-day news television consume, and continue hungering for, crises. Still, Nightmare on Main Street offers a valuable reading of our current thought-style: our dread in a period lacking the fifty-foot-tall monsters of times past—Hitler, the Bomb—and the agencies by which we address fears in a time when we ought not to be fearful. "One of the common functions of the Gothic is to turn anxiety, the vague but insistent fear of what will happen in the future, into suspense," writes Edmundson. "The Gothic novel or film in effect gathers up the anxiety that is free-floating in the reader or viewer and binds it to a narrative. Thus the anxiety is displaced and brought under temporary, tenuous control" (12).
Edmundson identifies three types of contemporary Gothic: terror, apocalyptic, and internalized. Each has mediagenically manifested itself in the '90s: terror through such charismatic hero-villains as O.J. Simpson and Susan Smith; apocalyptic through environmental and public health disasters, as well a mounting sense of cultural dis-ease; internalized through the "recovered memory movement" that proved so popular on Oprah—damaged people confronting their childhood abusers—before such pop group therapy evolved (or devolved) into the Dionysian throwdowns of Jerry Springer. Each Gothicism provides a storyline from which to hang our "free-floating" anxieties, taking "our inchoate fear about what will happen to us and attach[ing] it to a coherent, suspenseful narrative that is due to achieve some resolution. With that resolution anxiety is discharged, at least for a while" (65-66).
And two of these Gothicisms also generate their "facile transcendence" opposites, those mechanisms for quick—simple, simplifying, simplistic—response to Gothic dread. Terror Gothic has its answer in pop transcendence, the feel-good philosophy personified by Forrest Gump—stupid, endangered, but unbowed—and the guardian angels who seemed to occupy more places than you would have thought likely in the mid-'90s: lecture halls, teenagers' bedrooms, stores in malls where you could buy lapel pins of the Tasmanian Devil with wings and a halo. Internalized Gothic engenders the "therapeutic sublime"—such easily (though, Edmundson argues, cynically) parodied culture-texts as Robert Bly's Iron John or John Bradshaw's dialogues with one's inner child. We do not so much engage these ideas on their own terms, Edmundson suggests, as use them as healthful vacations from the Gothic—momentary stays against consternation. That he does not—claims he cannot—identify a current opposite for apocalyptic terror somewhat weakens not only the symmetry of his argument but its quality as well. For Edmundson ought to know that the Apocalypse is, for some true believers at least, not terrible, but rather the happy ending for which humankind yearns. That Edmundson, once a student of Harold Bloom, would not remark the whacked-out American sublimity of end-times cults is perplexing.
Rather than only offering narrative schemas for stabilizing free-floating anxieties or simplistically suggesting counter-schemas offering easy—but ultimately unproductive—transcendence, Gothic, suggests Edmundson, continues to frame real and valuable inquiries into the hauntedness of our lives, just as it did when Gothic novels first gained popularity in the eighteenth century. In the hands of Toni Morrison and Tony Kushner, as in those of Monk Lewis and Ann Radcliffe, the sadomasochistic ends to which Gothic aspires are held up for examination, for criticism, at last for vexing celebration. In the face of Gothic malaise, that is, encouraging a veritable explosion of dreadful rites bodes well for cultural reawakening, a slap to rouse us collectively from the day-to-day mopes. Edmundson argues that, in the work of "Anglo-American visionary authors," Nietzsche's Apollo and Dionysus are rejoined—but as "the transformative drive and the Gothic" (suggesting that, in fact, Jerry Springer may well be doing the bedrock work of societal rejuvenation).
But attempts to engage the Gothic through such serious works as Beloved and Angels in America can hardly be said to represent how mainline American culture uses Gothic and its variants. Instead, we demonize or beatify—often with equal ruthlessness, our need to package up horror is so great. In the several days following the Columbine shootings, crosses went up not only for the thirteen shooters' victims, but also for the shooters themselves, suggesting that they too were victims of the zeitgeist. Several websites similarly presented Harris and Klebold as misunderstood youngsters, freed now from their earthly torments. (In a positively Dantesque manner, a number of easy-grace webposters inadvertently created a hell of flower-strewn crosses, scriptural quotations, and animated lovey-doves in their Dylan and Eric tributes.) Along with the apocalyptic Gothicism promulgated by a trenchcoat-smitten media, the pattern Edmundson identifies with the pop therapeutic format of daytime talk shows—the culture of victimhood—obtained. So too did facile transcendence: websites celebrating the lives and deaths of the Columbine martyrs, especially Cassie Bernall (who confessed her Christian faith and was shot to death), went up and remain. So too did some unsettling sites, some of them terribly sincere, some satirical culture-terrorism, saluting not only Harris and Klebold, but also their actions.
This is not to say that Nightmare on Main Street ought to be construed as simple-minded schematization, a way to predict the entire network of reactions which may radiate out of terrible events: so far as I can tell, Edmundson was not called to pundit duty for Larry King. Nor do I mean to suggest that Nightmare on Main Street is an unmitigated success. The book, once again, could be longer, deeper, and still reach the broad, non-academic audience to which it is aimed—and illustrations would further open the book up to wider audiences. The section on S&M culture does not have nearly the panache of the previous two, perhaps because it is the most literary, but perhaps because the sort of mainstream S&M it considers—Rambo-quality guy flicks—do not conduce to the same critical obsessiveness as the artier products of horror cinema. And Edmundson could have striven a little harder to overcome his slight discomfort in writing about popular texts and therefore eliminated some of the qualifiers he uses to describe them: that Nightmare on Elm Street is "a work of lowbrow genius" (51) is probably meant to identify the audience traditionally associated with the dead-teenager genre, but is too easily construed as professorial distancing.
But Nightmare on Main Street is still an important book—one which, given Edmundson's now famous pedagogical call to arms in Harper's, suggests how cultural studies, especially popular culture, can develop on campuses and in America at large: not as an excuse for edutainment, for popping in Forbidden Planet or Clueless and garnering groovy points while the Brit survey sinks; not as an arena for kneejerk irony, cynicism as the middlebrow's wit; nor as the Latest Thing, interdisciplinarity revved up to fifth gear. Instead, Nightmare on Main Street suggests a way of reading culture that rewards us for paying attention not only to theory and canonical texts but also to the junk we thought our brains were not interested in. More to the point, Nightmare on Main Street demonstrates how to do culture criticism as it ought to be done, now that cultural studies is old enough and formidable enough to wear its erudition lightly and give us sentences like these:
Gothic shows the dark side, the world of cruelty, lust, perversion, and crime that, many of us believe, is hidden beneath established conventions. Gothic tears through censorship, explodes hypocrisies, to expose the world as the corrupted, reeking place it is—or so its proponents maintain. Unsentimental, enraged by gentility and high-mindedness, skeptical about progress in any form, the Gothic mind is antithetical to all smiling American faiths. A nation of ideals, America has also been, not surprisingly, a nation of hard disillusionment, with a fiercely reactive Gothic imagination.... Gothic ... sets out to haunt its audience, possess them so they can think of nothing else. They have to read it—or see it—again and again to achieve some peace. (5)