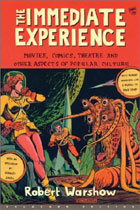 Robert Warshow on the Perils of Too Much Theory
Review of Robert Warshow, The Immediate Experience: Movies, Comics, Theatre and Other Aspects of Popular Culture (Cambridge, MA: Harvard University Press, 2001), xliii + 302pp. ISBN 0-674-00726-3.
Curtis Bowman
Other Voices, v.2, n.3 (January 2005)

---
Copyright © 2005, Other Voices/Curtis Bowman, all rights reserved.

---
Harvard University Press should be wildly applauded for publishing an enlarged edition of Robert Warshow's essays on politics and popular culture. Confirmed admirers will relish the addition of eight previously uncollected essays. Those readers who are encountering Warshow for the first time are to be pitied for having missed out on one of the most intelligent critics of American popular culture.
Warshow's essays appeared from 1946 to 1955, primarily in The Partisan Review, The Nation, and Commentary. Because he died of a heart attack in 1955, at the age of 37, his life's work fits into a single volume. Warshow's posthumous fame, what little of it there is, rests largely on his film essays, especially "The Gangster as Tragic Hero" and "Movie Chronicle: The Westerner," which are occasionally included in anthologies of film criticism. Knowledgeable students of film have thus heard of him. His best known political essay, "The 'Idealism' of Julius and Ethel Rosenberg," is a brutally frank critique of the couple that perfectly complements his views of popular culture. Warshow is also known simply for the quality of his prose: "The Gangster as Tragic Hero" is included in The Oxford Book of Essays.1 A legacy among enthusiasts of popular culture, politics, and prose—not bad for a writer who died so young.
Yet the reader who is unfamiliar with Warshow might well wonder whether or not the time required to read this collection is time well spent. After all, the western has more or less died out as a genre, and the sort of gangster picture that made Edward G. Robinson, James Cagney, and Humphrey Bogart famous has become a rarity. The book's many other essays on film might seem even more dated to contemporary readers. For example, Warshow wrote penetrating reviews of Charlie Chaplin's Monsieur Verdoux and Limelight, but nowadays these two films command much less attention than his silent works. Furthermore, Warshow's political concerns are no longer the rage. As each day passes, fewer and fewer people spend much time mulling over the Rosenberg case. Similar reservations pile up, and there are many other books that we could be reading.
Warshow is important not only because he was an insightful critic of popular culture, but also because he was a thinker who confronted many of the same obstacles that we face today as we combat the pseudo-intellectual cant about the relationship of politics to culture that threatens to bury us all. Warshow attempts to elude the stultifying straitjacket of theory in favor of the "immediate experience" that gives the book its title. If there is any unifying theme running through the essays of this book, it is Warshow's preoccupation with the unfortunate side effects of too much theory.
Warshow's rejection of theory should not be mistaken for a naive endorsement of the view that we can approach popular culture without any preconceptions. That is, he knows that our experience of the products of popular culture is mediated by a rich web of concepts, judgments, expectations, and values. Instead, Warshow rejects rigidly adhering to politically motivated theories, for they frequently blind us to the fact that we are the individuals whose experience is in question, and that the everyday concerns that are familiar to us all are often sufficient for making sense of what we have experienced. The personal is not necessarily the political, and thus we should not mindlessly let theories inspired by politics prescribe to us how we should properly understand our experience of popular culture. Although Warshow was primarily concerned with the consequences of the Stalinism of the American left of the 1930s, his criticisms apply to views across the political spectrum.
The movies (to use the less exalted term that Warshow preferred) were the primary focus of Warshow's critical attention. This was where he wrote most eloquently and tellingly, again and again revealing to his readers what they too must have experienced yet might not have been able to articulate for themselves. That we can find insight in essays written half a century ago says something about their quality, but it also says something about the many mediocre efforts that today pass for sophisticated thinking about popular culture.
Consider what Warshow has to say about the Western. Many contemporary critics ask us to view the Western in an ideological light, as a genre encoded with deplorable attitudes towards, say, imperialism, genocide, and gender—the putative sins of the genre can be easily multiplied. Such critics then proceed to tell us how we should we react to movies that display these attitudes. We need not rehearse their criticisms here. Warshow, fortunately, sees matters much differently (which is not to imply that he cannot identify a deplorable attitude when he sees one).
Warshow knows from his own experience that he is drawn to the Western, regardless of what others say about its value as a genre, and he wonders what draws him to it. The Western, he writes,
. . . offers a serious orientation to the problem of violence such as can be found almost nowhere else in our culture. One of the well-known peculiarities of modern civilized opinion is its refusal to acknowledge the value of violence. This refusal is a virtue, but like many virtues it involves a certain willful blindness and it encourages hypocrisy.2
When the right moment comes, we want the hero to draw a little faster than the villain—but only at the right moment. The Western hero, as played by someone like Gary Cooper, is a man who lives by a code, and thus only resorts to violence when the unwritten rules permit it. Many of those around him fail to understand the need for violence, and hence he must often act alone; moreover, he must always use violent means honorably, so as not to disgrace himself.
We can spot the hero a mile away. Why? Because, says Warshow, "in a movie it is not the intrinsic worth of an idea that counts, but the power with which it is made into an image; in the movie theater, we think with our eyes."3 The ideals embodied by a man of integrity who must commit acts of violent goodness must find appropriate visual expression:
Really, it is not violence at all which is the "point" of the Western movie, but a certain image of man, a style, which expresses itself most clearly in violence. Watch a child with his toy guns and you will see: what most interests him is not (as we so much fear) the fantasy of hurting others, but to work out how a man might look when he shoots or is shot. A hero is one who looks like a hero.4
"Yes," we say, "that's how it is." Warshow has eloquently articulated what we take to be true about the Western hero, even if we have never explicitly formulated this truth for ourselves. The plain truth need not be theoretically sophisticated, but it can be enlightening when properly articulated. Warshow's essays abound with such trenchant criticism.
Warshow was a leftist who criticized his fellow leftists, insisting that the Stalinist legacy of the 1930's had blunted the ability, nay, the willingness, of his contemporaries to face up to their own experience:
The most important effect of the intellectual life of the 30's and the culture that grew out of it has been to distort and eventually to destroy the emotional and moral content of experience, putting in its place a system of conventionalized "responses."5
Why else, he asks, would anyone plump for the political crudities of Clifford Odets and Arthur Miller? Only someone subscribing to orthodox leftist pieties could be drawn to the politics of their works. To his credit as a critic, Warshow identified the harmful effects of political correctness long before we knew what to call it.
Warshow's essay on the Rosenbergs, occasioned by the publication in 1953 of their prison correspondence, shows how deeply dishonest the couple was with regard to their own experience, and thus his criticisms are of a piece with his views on popular culture. Warshow deftly, and devastatingly, reveals Julius Rosenberg's imperviousness to experience:
On July 4, 1951, Julius clipped a copy of the Declaration of Independence from the New York Times and taped it to the wall of his cell. "It is interesting," he writes to Ethel, "to read these words concerning free speech, freedom of the press and of religion in this setting. These rights our country's patriots died for can't be taken from the people even by Congress or the courts." Does it matter that the Declaration of Independence says nothing about free speech, freedom of the press, or freedom of religion, and that Julius therefore could not have found it "interesting" to read "these words" in that particular document? It does not matter. Julius knew that America is supposed to have freedom of expression and that the Declaration of Independence "stands for" America. Since, therefore, he already "knew" the Declaration, there was no need for him to actually read it in order to find it "interesting," and it could not have occurred to him that he was being untruthful in implying that he had just been reading it when he had not. He could "see himself" reading it, so to speak, and this dramatic image became reality: he did not know that he had not read it.6
Why bother to look at the text of a document when one already "knows" what it contains? Pre-conceived notions comfortably take the place of one's own personal experience.
The couple's emotional outpourings are flat and perfunctory, abstract and impersonal. Their efforts to express themselves are often laced with mechanical political rhetoric that hardly seems to touch on their inner lives. Of course, they clearly loved each other and their two sons. But their letters hardly seem the products of people in touch with genuine emotions. Once again, Warshow finds the stultifying effects of politics:
The Rosenbergs thought and felt whatever their political commitment required them to think and to feel. But if they had not had the political commitment could they have thought and felt at all?7
In any event, the Rosenbergs come across as shallow. One can only wonder whether such shallowness made it easier for them to betray their country.
Although the political scene has changed greatly in the past fifty years, we face difficulties similar to the ones that Warshow encountered as we try to deal with contemporary popular culture. This reviewer has a brief tale to tell that he hopes will serve to illustrate the continuing relevance of Warshow's approach to popular culture.
About three years ago I was asked to contribute an essay on some particular horror film to an online journal called Kinoeye. I chose a French film from 1959 entitled Eyes without a Face. As I began to look at the critical literature, I was struck by how politically motivated it was. Commentators drew any number of feeble and unconvincing parallels between the film and French history—e.g., the French experience of the German occupation during the Second World War, the war in Algeria, and the racism inherent in French colonialism—without paying much attention to what actually happened in the film. This struck me as very odd. After all, one would normally think that a detailed reading of the plot should make up a significant portion of any interpretation of a narrative film.
Instead, a series of conventionalized responses (to use Warshow's language) was deployed to interpret the film, but it was difficult to understand what drew the critics to the film in the first place. Furthermore, what these critics had to say was largely irrelevant to appreciating the film, yet they no doubt thought that they were somehow making sense of the film. Understanding how the film touched them emotionally was never really much of a concern to them, and thus why they cared enough to write about it was never clear.8
What I encountered in this one instance of thinking about a single film is widespread and growing. We are increasingly burdened with criticism that refuses to look at the works themselves, that fails to explain how they attract and move us, and that is unable and unwilling to reveal to us what our reactions say about us as individuals. This is why we should read The Immediate Experience and take its lessons to heart. Warshow's writings could not be more timely. If only the book were longer.





Endnotes:
1. The Oxford Book of Essays, ed. John Gross (Oxford: Oxford University Press, 1991), 581-586.
2. Warshow, The Immediate Experience, 121.
3. Ibid., 139. This passage is found in a review of a famously terrible anti-Communist movie from 1952 entitled My Son John. But the principle applies to all of Warshow's observations about the movies.
4. Ibid., 123.
5. Ibid., 8.
6. Ibid., 43-44. For Julius' letter to Ethel, July 4, 1951, see Death House Letters of Ethel and Julius Rosenberg (New York: Jero Publishing Company, Inc., 1953), 46-47.
7. Warshow, The Immediate Experience, 50.
8. Since I cannot defend my criticisms in the space of this review, interested readers should look at my essay: "A Film Without Politics: Georges Franju's Les Yeux sans visage," Kinoeye 2.13 (9 September 2002) <http://www.kinoeye.org/02/13/bowman13.php>.

Curtis Bowman received his Ph.D. in philosophy from the University of Pennsylvania in 1993 and has taught at the University of Pennsylvania, LaSalle University, Bryn Mawr College and Haverford College. His research interests include the history of German philosophy, aesthetics, and contemporary continental thought. His recent work includes translations for the volume Notes and Fragments of the Cambridge Kant edition (ed. Paul Guyer) and reprint editions of works by Moses Mendelssohn and J. J. Winckelmann for Thoemmes Continuum. Currently he is living in Texas, working as an independent scholar and maintaining a blog of commentary and criticism.