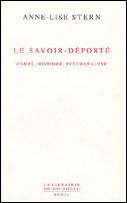 Psychoanalysis After Auschwitz?: The "Deported Knowledge" of Anne-Lise Stern
Review of Anne-Lise Stern, Le Savoir deporte: camps, histoire, psychanalyse, edited by Nadine Fresco and Martine Leibovici (Paris: Seuil, Librairie du XXIe siecle, 2004), 335 pp. + table of contents. ISBN: 2020662523.
Michael Dorland
Other Voices, v.2, n.3 (January 2005)

---
Copyright © 2005, Other Voices/Michael Dorland, all rights reserved.

---
The Holocaust happened. Why, how, and what does it mean has been the preoccupation of an enormous quantity of scholarship since the end of the Second World War. Historian Istvan Deak, for instance, claimed in 1989 that the Holocaust has been probably the most studied event in history. Philosopher Giorgio Agamben, for another, stated "the problem of the historical, technical, bureaucratic and legal circumstances in which the extermination of the Jews took place has been sufficiently clarified" (11). Remarks such as these are, among other things, what gives rise to the present book.
Le Savoir deporte represents the struggle in article form to resoundingly argue the contrary that Parisian psychoanalyst and former Auschwitz and Buchenwald deportee Anne-Lise Stern has waged on the public scene for the past thirty years. Precisely, that the major problem both of contemporary public life and of psychoanalysis is that the Holocaust has not been understood—and thus, remains an omnipresent dimension for understanding what goes on in the Middle East today, the West's complex relations to the Islamic world, and the on-going "wars on terrorism"—to mention only the more visible symptoms that deeply affect public and private lives, now some three generations after the fact.
Since early 1945, when the Allied and Soviet armies discovered what remained of the Nazi regime's attempt at mass murder on a never before encountered scale, we have lived in a post-Holocaust world. That is, one in which the key question is less how such a catastrophe could have taken place in "Western civilization," but rather the more difficult issue of how to come to terms with the fact that, nonetheless, it did happen—how to assess its sheer facticity without recourse to the denial which has arguably been the most widely practiced response to the event. Denial aside, though I will return to this, the fact the Holocaust happened precipitated a new level of toleration for what would be termed "genocide." Within a mere six months of the discovery of the Nazi concentration camps, the only two atomic bombs ever used on human beings were dropped on Hiroshima and Nagasaki. The acceptable scale of the violent destruction of peoples has spiraled upwards ever since, showing few signs of abating—just pick the genocide of your choice from the available menu.
So consider the following proposition:
The fact is, whether one chooses to refuse it or to acknowledge it...[that] the genocide perpetrated by the Nazis against the Jews during the Second World War weighs very particularly on the contemporary Western world.....Almost a half-century later, the event serves an often determining reference function for intellectual productions of every kind—political, philosophical, religious, literary, etc....This weight, this imprint, this reference is translated in various ways, often indirectly so, paradoxically even, because of the diverse mechanisms by which individuals or groups reflect their refusal of the weight and the imprint of the event, and is, thus, additional evidence of [precisely] its imprint and its weight.
These words were written in 1988 by historian Nadine Fresco, co-editor with Martine Leibovici of Stern's book, but are quoted by Anne-Lise Stern in Le Savoir deporte (220), and so could stand as a programmatic statement of the central preoccupation of Stern's own work. The difference, and perhaps why Stern quotes Fresco instead of directly stating the equivalent, is that for Stern this is not an intellectual exercise where something is demonstrated using the conventional tools of knowledge but rather one necessitating different forms of knowledge. Namely, how violent affect—and here the specific forms of affect of having lived the experience of concentration camp deportation—marks the body through the various "mechanisms" devised by psychoanalysis especially, yet leads to the following paradox: "...[C]an one be a psychoanalyst after having been deported to Auschwitz? The answer is no. Can one, today, be a psychoanalyst without [having been deported]? The answer is also no. Understanding how these two impossibilities hold, what their rapport is, seems to me a good way by which to approach the question: what psychoanalysis is possible after Auschwitz?" (192).
How, in other words, does one return from Auschwitz (using the term metonymically for the concentration camp system as a whole), assuming of course that one "survived" the experience, bearing in mind Primo Levi's ambivalent distinction between the "drowned" and the "saved"? And relatedly, what does "Auschwitz" signify for the theory and practice of psychoanalysis, and the psychoanalytic community more generally? To put it crudely, has psychoanalysis been of any use at all, except in the occasional individual case, in the return from "Auschwitz"? Primo Levi, for one and forty years later, thought not, because psychoanalysis was elaborated both prior to and outside the Nazi concentration camps "as if one were to attempt to apply the theories of plane geometry to understanding spheric triangles" (cited Stern, 223).1 Attempting to reconcile such impossibilities, then, has been Anne-Lise Stern's life-work, as Fresco and Leibovici entitle their biographical introduction to Le Savoir deporte ("Une vie a l'oeuvre," 7-53). To Freud's list of the three impossible professions—teacher, politician and psychoanalyst—Anne-Lise Stern adds a fourth, "deportee and psychoanalyst," the two terms by which she both signs her work and describes herself.
The After
One place to start, as has already been suggested, is with a more foregrounded recognition of the significance resulting from the fact that we, for the most part and except for the ever-dwindling and ageing population still alive who did live through deportation—Anne-Lise Stern herself is now 83 years old—are of, and dwell in, the After-Auschwitz. That is, we live more or less normally, in "the longest shadow" (as Geoffrey Hartman calls it [1996]) of an event or series of events, which some sixty years later we are still uncertain what to call: Churban, genocide, Holocaust, Shoah, Judeocide, just to list the various names given "it" since the end of World War II. Nor is it much clearer what we who come After "owe" to the Event(s), by way of commemoration, remembrance, memory, oaths ("Never again!"), or understanding. Nor, more broadly, do we understand what we owe to the histories, both large and small, which entangle us. Why for instance in the former British Empire, the U.S. excepted, is November 11, 1918 (the Armistice that ended WWI), still celebrated with more fanfare than, say, May 8, 1945 (V-E day), eighty-six years after the Great War ended? So why does the Shoah have, except for the case of Israel, no specific commemorative date attached to it? Indeed, why Jews, Nazis, and concentration camps after all these years? Why can't we just move on?
Anne-Lise Stern would argue that it is because we—and not just in the Europe or North American—continue to act it all out. Neo-Nazis churn out their exterminatory prose while denying that anything other than delousing took place in the camps, if these actually ever existed. Jewish cemeteries continue to be desecrated. Anti-Semitism is on the rise, or so it is claimed—and this despite the Nazis' own rather successful cleansing of Europe of the "Jewish Problem." The Protocols of the Elders of Zion are a recent hit on television in parts of the Arab world—one could go on and on. And that is only the public face of it. The private face of it—and so what psychoanalysts get to hear in the confidentiality of their practices—is obviously more, or differently, complex. It is well established in the research that the impact of the Holocaust upon families affected carries through to the grandchildren. The "survivors," for lack of a better term, are haunted by their camp experiences unto their death-beds where those who were murdered there apparently reappear, and very reproachfully so. Nor are psychoanalysts themselves immune from the seventy-odd manifestations of counter-transference that the work of Yael Danieli identified already twenty-odd years ago (1981). So from the indifference that those who did return from the camps experienced in immediate postwar societies, and so powerfully written about in the literary works of Primo Levi, Robert Anthelme, or Charlotte Delbo, through to the present-day, it is difficult not to come to the conclusion that many, many millions of people can be blithely slaughtered and, except for those immediately concerned, it really does not seem to matter very much at all. That is what it means to live in the After-Auschwitz, a moment in time where human life attains a nadir of worth. Anne-Lise Stern cites a 1963 paper published in Germany by psychoanalyst Kurt Eissler entitled, "The murder of how many of his children must a man be able to bear without developing any symptoms in order to be recognized as having a normal [psychic] constitution?" (193; full citation at note 3, 319). It also means that one does not come "home" from Auschwitz as a "normal" person; for one has been tattooed like cattle, and given a number instead of an identity—not to mention what one has seen and heard and felt. How then to "think" about Auschwitz without "papering" it over? Anne-Lise asks—punning in French on thinking (penser) and "bandaging or covering over" (panser)—what role here can psychoanalysis perform, if any? (see "'Panser' Auschwitz par la psychanalyse?", 189-196).
Method Acting Out
For Anne-Lise Stern, those who returned did not come back to nothing or with nothing; or not exactly. They returned equipped with what she terms "le savoir-deporte" or "deported knowledge," what one who has experienced deportation now knows about life and about death. "Knowledge," one might say, appropriate for our mass murderous times. Stern's initial use of her savoir-deporte in the immediate After, was in her work with (often autistic) children or children who had themselves survived deportation or were the children of former detainees. As an ex-deportee herself, she could often tell who was still capable of life even where her medical colleagues had given up on the case. Still, it would require several years and her own becoming a psychoanalyst before she could begin to "theorize" the idea of savoir-deporte. I put "theorize" in quote marks, because in fact she has not really done so; her "method" which she calls rather "recherche-temoignage-parlee" (research-testimony-speech) (265) is more a form of self-directed free-association than a theorization proper. Here, Anne-Lise's method is closely tied to the entire problematic of the witness-function of the ex-deportee that she elaborates in another of her best-known articles in the form of the paradoxical injunction to "Be deported so that you can be a 'witness' later!" ("Sois deportee...et temoigne!", 105-113). What, she asks, are we who returned? What am I? Tattooed, already a form of walking document? But paper documents are made of rags—schmattes, or in French, loque (or in German Loch, as in Arschloch, asshole)—rags, refuse, bits of stuff, or what the Nazi administrative language machine called Stucke or pieces (as in so many "pieces" were transported and disposed of). "That's what deported-knowledge is, knowledge about what it means to be refuse, a 'loque'," she writes (108), adding that "Jewish deportees were in any event dressed in rags...rags that had been retrieved from preceding convoys [whose contents had] already been gassed. To earn the right to the striped uniform, you had to be part of a 'real' labour kommando." (108).
However, once the loque begins to speak, bear witness or testify to what it was to be "a loque", then he or she is no longer that anymore. But what are they now exactly—fully human again, a "subject" once more, a professional witness, living documentary "material" for historians or, for that matter, psychoanalysts to analyze? Or can one still be a psychoanalyst after Auschwitz?2
Anne-Lise Stern did become a psychoanalyst and Jacques Lacan was her analyst at a time before the latter became "Lacan," the floating signifier, and before the whole Lacanian episode would shake French psychoanalysis to its roots. We will come back to this, as well as Anne-Lise Stern's fierce loyalty both to Lacan the person and to (her take on) his approach to psychoanalysis, below. Suffice it for now to indicate that this positions Stern not only within the politics of psychoanalysis in France but also her idea of savoir deporte within a theoretical structure that owes much to Lacanian perspectives. In the words of her editors Fresco and Leibovici:
Psychoanalysis was first of all for her, as for many, a path to personal safety [i.e., she had attempted suicide], that began with Lacan because he was the only one to be able to hear in what she was saying the knotting together of a personal neurosis with the trauma of deportation. The clinical translation of the theories that Lacan had elaborated for several years on "the formations of the unconscious"—word-play, symptoms, dreams, parapraxes...—brought together later in the formula that "the unconscious is structured like a language" is what made her rescue possible....Anne-Lise found here a framework within which to develop the work she had begun professionally with hospitalized children. Little inclined to lengthy exegesis of the Word of the Master...Anne-Lise drew particularly on Lacan's use of the concept of "signifier" to decode what she terms "non phonematic signifiers." Some of these, for instance visual ones, such as emblems or graffiti, draw their multifaceted [psychic] energy from what she calls "the garbage can of the camps." (39-40)
"Performing" Auschwitz
If for Anne-Lise Stern, then, the garbage can of the camps is a precise historical formation of the unconscious-the "anus mundi" as Auschwitz-Birkenau SS Hauptscharfuhrer and doctor of medicine Thilo Heinz so aptly called it (note 2, 319)—the task of the psychoanalyst is to attempt to decode, through the analysis of word-play, symptoms, dreams, slips of the tongue, etc.—how it is structured "like" a language, but in her approach, non phonematically. She remarks that while her memories of the camps remain acutely visual, they are not auditory—as if in the sound-track of her experience screams, shouts and other violent sounds had been erased. At the same time, she remains extraordinarily sensitive to certain forms of words, especially songs. She also says that it is very difficult for her to write or to speak in public (261)—except when she is driven to it by a sense of outrage or "moments of revolt." Indeed, as Fresco and Leibovici recount, what launched Anne-Lise Stern onto the public scene (nor was she alone in this) was the appearance late in 1978 of the first texts by "historian" Robert Faurisson in Le Monde on the non-existence of the Nazi extermination camps. The upsurge of French Holocaust negationism and the very strong reaction it produced among (some of) the intellectual classes (see esp. Vidal-Naquet 1992 for the U.S edition) was in fact the beginning of the French grappling with its own tormented past both as the Reich's principal collaborator in laborpower and raw materials, as well as the Vichy government's more than zealous enforcement of anti-Semitic legislation and deportation practices (on Holocaust deniers in general, see Shermer & Grobman 2000). It was also the beginning of Anne-Lise Stern's battle, that has continued more or less ever since, with the French analytic community's lack of engagement with, denial, or even perverse jouissance with the knots that keep both concentration camp survival and psychoanalysis mutually entangled (Lacan excepted, she would insist). Conversely, it was her failure to convince the psychoanalytic community, and the post-Lacanians most of all, whom she considers should have been capable of better, that as of 1992, led her to continue a bi-monthly seminar at the Maison des Sciences de l'Homme (MSH) where for thirteen years—she actually began her seminars elsewhere in 1979—she has undertaken what she calls variously her "recherche-temoignage", but also "lecture-montage-demontage" entitled "The camps, history, psychoanalysis—and their knotting ("nouage") in contemporary European actuality."
Those who attend the seminar are often themselves analysts; some have attended for years; others came for a while and moved on to other preoccupations. The seminar is held in a conference room with a long table; Anne-Lise sits on one side with her back to the window; the "students" on the other side directly across from her. She usually starts with a review of items that have struck her in the press or on television—for example, a contemporary German medical artist who performs visualizations of the interior of human bodies using the methods of anatomy perfected at the SS experimental camp of Sachsenhausen and today obtains his cadavers through the good offices of the police executioners of the People's Republic of China. She will then turn to books she has read having to do with the Holocaust; how, for instance, a comic book format is used for familiarizing young readers with fairly grim depictions of deportation. Finally she comes to the specific theme of the seminar of the week, and proceeds largely through a process of free association that combines some material she has written out for the occasion; rereadings of previous texts; memories that come to her; a song, a child's story, often in her native German. The latter tend to make her cry, as does a memory-image of her comrades at Auschwitz or the other young French women (and children) of convoy number 71 that departed Drancy on 13 April 1944 bound for Auschwitz. Anne-Lise is still wending her way home, 60 years later.
I mention this because her book Le Savoir-deporte, while it attempts to convey something of the experience of her presence—including two excerpts from her MSH seminars, as well as, to the best of my knowledge, previously unpublished early writings just after her return from deportation—does not match it. As an introduction to Anne-Lise Stern's work, this collection will do well enough, to be sure. It is important to have collected together in one volume many of her main articles from 1963-2003, otherwise scattered in varied and by now impossible to locate publications from the French Freud wars. One might have wished, however, for a more substantial retrospective on what has been surely a unique life's work. One glimpses this in two extraordinary pieces, her 1963 article on the problem of "the child" in psychoanalytic theory, and her 1979 "Le marche des drogues" that brilliantly weaves the camps into a contemporary analysis of drug addiction (126-134 and 144-154 respectively).
Still, other than the usual life reasons, I think there are nonetheless two specific and intertwined reasons for the belated (and, I would add, insufficient) recognition of Anne-Lise Stern afforded by the present book. One has to do with the paradox that, though she has lived in France since the age of 12, when in the 1930s her family sought a short-lived refuge from the extending grasp of the Third Reich, she comes more from that utopian strand in cultural-social democratic psychoanalysis that thrived in the German-speaking world of the 1920s. The other has to do with the curious institutionalization of psychoanalysis in the French context, of which the Lacan affair was a major symptom.
The Unease in Culture
The German-speaking world of the 1920s was, among other things, the site of an extraordinary attempt at popular education in which psychoanalysis and the formation of analytical societies, popular clinics and the like played a central role. Under the general political auspices of the Social-Democratic Party, this was the continuation of a program of mass education that had begun through the party press and schools in the late 19th Century. Obviously it took different forms depending on the location, but in the city of Mannheim, to which her parents moved after Anne-Lise Stern was born in Berlin in July 19213, it was Dr. Heinrich Stern, a neuropsychiatrist, who was one of the local leading lights in the resulting Aufklärung as Anne-Lise refers to it. Like so many others at the time, Dr. Stern attempted to combine Freud and Marx in his teaching at the Volkshochschule or people's university. As the daughter of Dr. and Frau Dr. Stern, young radicals steeped in the Kulturarbeit of the Weimar years, Anne-Lise grew up on the knees of Grandpa Freud and Grandpa Marx as provided by her father in a utopian moment whose tragic termination we now know all too well. On 30 January 1933, Hitler becomes Reich Chancellor. By March, he is voted full powers. In Mannheim, early March, the arrest of the Social-Democrat municipal councilors begin, among them Heini Stern. By May 1933, the Sterns have fled to France. As much of this and more is recounted by Fresco and Leibovici in their introduction, I shall not dwell on the details. Dr. Stern becomes director of the psychiatric asylum at Blois, partly through socialist connections. In the fall of 1939, Anne-Lise begins her first year of the medical curriculum. In June 1940, France capitulates to the invading Wehrmacht.
While one might be tempted to argue that Anne-Lise Stern's Bildung presents a classic instance of overdetermination, this would be to override the crucial role of contingency in a life. She could have died, like so many others, in deportation. She might not have survived the After (and nearly did not). She might never have met Lacan. She might not in the end have become a psychoanalyst (she failed the passe—that moment in Lacanian training where the analysand "passes" into an analyst). However, survive she did and analyst she became. But, I would suggest firstly, that she did so in what would turn out to be a continuum both of her father's work and the particular formations of psychoanalysis so prevalent during the Weimar years. Deeply utopian, rather anarchic, and at the same time committed to understanding the roots of the profound malaise in advanced technological civilization that Freud among others had warned about by the end of the 1920s: "The present epoch presents perhaps a particular interest. Men have achieved such a degree of domination over the forces of nature that with the help of the latter, it would be easy that they exterminate each other completely. And they know this, thus a good part of their current anxiety, of their misery and underlying angst" (cited by Fresco and Leibovici in their introduction, p. 23; I am translating their French; for the English translation by Strachey, it is the third to last sentence of Civilization and its Discontents [1929-1930, 1991). These concerns, however, would not be those of the institutionalization of psychoanalysis in France—or not centrally until the advent of Lacan upon the French analytic scene.
Lacan/"les camps"
As is well known, Lacan's battle cry in French psychoanalysis was to call for "a return to Freud." There is of course some debate as to how much this was a rhetorical tactic for an actual turn to Lacan instead, but that need not concern us here. What is more certain, and strongly insisted upon by Stern, is that Lacan's return to Freud also meant a return to the German language. Yes, this had in some form also been the Nazis' language, and so French analysts (and not just analysts) could with good conscience shun German, the language of the Occupier. German may arguably have been the Nazi language, although Victor Klemperer's LTI, first published in 1947, is part of a large literature that claims that "NS-Sprache" was almost a new language entirely.4 But German, and a very fine form of it, was unquestionably Freud's language. If nothing else, Lacan's call for a return to Freud meant at least this.
There is a lot of German in Anne-Lise Stern's work, with its attention to both verbal and non-verbal signs, slippages, etc., and as well a lot of conflict over her use of German, not to mention enormous personal anguish if she has to give a talk in what she calls her former maternal language. She describes herself as "fruher mal ein Deutsches Kind," formerly a German-speaking child. Lacan, she claims, restored her German to her, even though she had kept speaking it all her life under certain circumstances (37).
In other words, whatever else may be understood by a return to Freud, it represents a necessary coming to terms with the German language—that is, too, a coming to terms with what the Nazis did to the German language and, through language, to German (or, for that matter, Yiddish-speaking) Jews. The first entails the second, and unavoidably so. This is perfectly clear and eloquently so in Stern's own work. Whether it is in the case of Lacan is another matter.
For Anne-Lise, that Lacan's is the psychoanalysis for the After Auschwitz is an article of faith; indeed, a credo. Whether she completely believes this, or that she holds that she owes her life to him, is not the issue. The issue, rather, is whether such a proposition is demonstrable. There are reasons for doubt here, not the least being that if it were so, why has it not been the case among Lacan's other followers? To be sure, the sins of the disciples are not necessarily those of the Master and, on this question, Lacan did auto-abolish his own school in the end. The problem here is that, aside from occasional, fragmentary remarks on the unsurpassed problem of the Holocaust —Anne-Lise cites on p. 158 perhaps the most famous of such from the Four Fundamental Concepts of Psychoanalysis (Fr. ed., 1963, 246-7)—the case for Lacan's contribution to a post-Auschwitz psychoanalysis remains to be made. At most, one can say that despite recent efforts to make of this very Catholic man a Jew (Haddad 1996), or equally fragmentary remarks that postwar France needed a form of psychoanalysis that took into account the Occupation (Lacan 1947/2001)—a task at best only partially undertaken and not by Lacan either (Matisson & Abribat 1991)—we are still left, in the end, with Anne-Lise Stern's own paradox: can one be a psychoanalyst without having been a deportee?
Conclusion
This would seem to give Anne-Lise Stern, or rather the challenge she has posed for French analysis, the last word. That is fine. Nonetheless, this abandons her to the margins of the French analytic scene—which is not necessarily a bad thing, indeed, rather a compliment. For what remains for discussion is precisely the status of French psychoanalysis itself. Here it is symptomatic that one of the public debates of 2003-2004, and still on-going, concerns the attempt by the French State to more tightly regulate the credentials of psychoanalysts, an attempt that prompted torrential outcries by the profession (see, for instance, the special issue of Le Magazine Litteraire, No. 428, Feb. 2004). For that matter, a good part of the Lacan affair of the 1950s-1980s, of which the present attempt is a continuation, precisely deals with the regulation and training of psychoanalysts (initially by the International Psychoanalytic Association). So it is an old story in many ways, and one going back at least to the debate in the 1920s over lay versus professionalized (i.e., medical) analytic training.
The introduction of Freud's thought into the French context has since the teens of the 20th century been a formidable instance of resistance, in the analytical sense of the term. Not for nothing did Elisabeth Roudinesco entitle one of her two volumes on the history of psychoanalysis in France, the Hundred Years' War (1994). Without turning to an enormous literature, Eugene Webb, for example, in his 1993 case for the emergence of a new social psychology in France post-Lacan argues that French psychology was much closer to sociology, whereas Freud's thought focussed more on the Wagnerian self or solitary ego (15-17). Curiously, in this reading, French thought generally is rendered as much more social or group-focused than a Germanic or Kantian form of moral transcendence. At the same time, though, Webb shortly claims the contrary, that French thought is seen as rooted in the Cartesian autonomous ego as opposed to a Freudian idea of the unconscious. Whatever the case, Lacan's arrival on the scene would, at a minimum, lead to a great deal of confusion. But Webb is probably right when he says that the root problem is "the French effort to deal with unresolved tensions in its own [scientific] heritage" (16). It is, I would conclude, these continued, unresolved tensions that will make the reception of Anne-Lise Stern's work a difficult one. Welcome as the publication of this collection may be, it draws more attention, perhaps, to the continued presence of these tensions than it might have wished. But then is that not precisely what psychoanalytic thought is meant to do?





Endnotes:
1. My Carleton University colleague, psychologist Michael Wohl argues suggestively that this was far less the case in American psychological research, citing as examples the famed work of Stanley Milgram, Viktor Frankl and the "authoritarian personality" hypothesis (1950) on which Adorno collaborated. Personal communication, July 30, 2004. For critical remarks on Milgram's work, see Bartov 2003: 181-191. On the failure of the authoritarian personality studies, McKinney 1973.
2. Less than coincidentally, Jean-Pierre Mordier in his 1981 history of the introduction of psychoanalysis into the French context makes the very similar point that Freud's work was a science about le dechet, the refuse of the many by-products of civilized morality. See Jean-Pierre Mordier, Les debuts de la psychanalyse en France, 1895-1926.
3. Her parents wanted first to name her Ali, but instead opted for Anneliese, which as has often been remarked is very close to analyse, analysis in French.
4. Translated into English in 2000 from the 3rd German ed. in 1957; into French in 1996.
Works Cited:
Agamben, Giorgio 1999, Remnants of Auschwitz: The Witness and the Archive, trans. Daniel Heller-Roazan, New York, Zone Books
Bartov, Omer 2003, Germany's War and the Holocaust: Disputed Histories, Ithaca and London: Cornell University Press
Danieli, Yael 1981, "Therapists' Difficulties in Treating Survivors of the Nazi Holocaust and Their Children," PhD dissertation, New York University, 216 pp.
Deak, Istvan 1989, "The Incomprehensible Holocaust," New York Review of Books, Sept. 29
Freud, Sigmund 1991, The Penguin Freud Library, Vol. 12.: Civilization, Society, Religion, Penguin Books: Harmondsworth
Hartman, Geoffrey 1996, The Longest Shadow: In the Aftermath of the Holocaust, New York: Palgrave Macmillan
Haddad, Gerard 1996, Lacan et le judaisme, Paris: Desclee de Brouwer
Klemperer, Victor 1947/2000/1996, The Language of the Third Reich: LTI: Lingua Tertii Imperii, trans, Martin Brady; French edition published as LTI, Paris: Albin Michel
Lacan, Jacques 1947/ 2001, "La psychiatrie anglaise et la guerre," in Autres Ecrits, Paris: Seuil, 101-120
Magazine Litteraire 2004, "La psychanalyse: nouveaux enjeux, nouvelles pratiques," No. 428, February, pp. 20-60
Matisson, Maurice-David & Abribat, Jean-Paul 1991, Psychanalyse de la Collaboration: Le Syndrome de Bordeaux, 1940-1945, Marseille: Editions Hommes et Perspectives
McKinney, David W. 1973, The Authoritarian Personality Studies: An Inquiry into the Failure of Social Science Research to Produce Demonstrable Knowledge, The Hague: Mouton
Mordier, Jean-Pierre 1981, Les debuts de la psychanalyse en France, 1895-1926, Paris: Maspero
Roudinesco, Elisabeth 1994, Histoire de la psychanalyse en France, 2 vols., Paris: Fayard
Shermer, Michael & Grobman, Alex 2000, Denying History: Who says the Holocaust never happened and why do they say it?, Berkeley & London: University of California Press
Vidal-Naquet, Pierre 1987/ 1992, Assassins of Memory: Essays on the Denial of the Holocaust, New York: Columbia University Press; French edition, Paris: La Decouverte
Webb, Eugene 1993, The Self Between: From Freud to the New Social Psychology of France, Seattle and London: University of Washington Press

Michael Dorland is Professor of Communication at Carleton University, Ottawa. He is currently writing a book on the Jewish medical response to concentration camp survival in France, 1945-1980. During a sabbatical year in 2003-2004, he regularly attended Anne-Lise Stern's seminar. Dorland is author of many articles on Canadian film, cultural policy, and cultural studies. He is editor of Canada's Cultural Industries: Policies, Problems and Prospects (1996), So Close To The States: The Emergence of Canadian Feature Film Policy (1998), and Law, Rhetoric and Irony in Canadian Civil Culture (2002)..