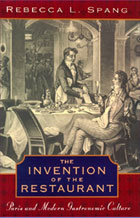 On the Menu: Revolution, Distinction, and the Invention of the Restaurant
Review of Rebecca Spang's, The Invention of the Restaurant: Paris and Modern Gastronomic Culture (Cambridge, MA: Harvard University Press, 2000), 325 pp. ISBN 0-674-00685-2.
Marie Sarita Gaytán
Other Voices, v.2, n.3 (January 2005)

---
Copyright © 2005, Other Voices/Marie Sarita Gaytán, all rights reserved.

---
During a Slow Food event at a restaurant famed for its haute cuisine, several attendees agreed that the seven-course meal we were served was "mediocre." Given that it was my first time dining at a restaurant of such caliber, I was rather impressed by the spectacle. After expressing their individual appraisals and criticisms, they concluded why the meal had been a disappointment: the chef was neither French, nor trained in France. From this perspective, "Frenchness," even if achieved through training, played a vital role in the overall assessment of their dining experience. In all fairness, the chef's lack of Frenchness, while an important variable in the appraisal of their meal, was not the sole factor shaping their critique. However, what is noteworthy is how Frenchness was infused with essential meanings that implicitly placed French qualities at the top of the culinary cultural hierarchy. How is it that restaurants present us with the opportunity to make such distinctions? Rebecca Spang, in her book, The Invention of the Restaurant: Paris and Modern Gastronomic Culture (2001), examines how restaurants became places of public and private consumption. In this profoundly engaging analysis, she traces the evolution of the restaurant through the interplay of French social, political, economic, and cultural life by chronicling its transformation into a place of contemporary urban sociability.
Spang begins by challenging the conventional gastro-hagiography that portrays the restaurant as a modern phenomenon. Dating from as far back as the fifteenth century, the word "restaurant" originally signified a thing, as opposed to a place. That is, restaurant was a medical term used to describe restorative substances—the most popular restorative recipes taking the form of bouillon. Restaurants, it was commonly assumed, provided the nutrition of meat without weakening the digestive systems of people who were poorly. The original restaurant, or "restorer's room," served those who were afflicted with "delicate" appetites. Contrary to culinary historians who assumed that restaurants emerged in response to "debilitating pangs of urban hunger," restaurants first catered to those suffering from an array of ailments (34). During the pre-Revolutionary period in France, such afflictions symbolized intellectual sophistication and high moral refinement. Maladies including "weak chestedness" signified a set of specific cultural meanings just as "consumption" did in the nineteenth century. Namely, suffering the ill effects of digestion was proof of one's intellectual prowess. For example, Mauvelain, an aspiring eighteenth-century author, diverted deadline pressures from his publishers with "tales of headaches and stagnating humor" that emphasized his commitment to sophisticated intellect (39). Most notably, sipping bouillon in public was considered high-class; it differentiated the literati from the "course worker capable of digesting whatever was placed before him" (39). Consequently, even in its earliest form, the restaurant was a site where distinctions were enacted.
Spang credits Mathurin Roze de Chantoiseau as the "inventor" of the restaurant. However, Roze's restaurant did not evolve from the fully formed kitchen of an imaginative chef or creative connoisseur, nor was it a product of the inns and wine shops that served food to travelers for many years. Indeed, those institutions continued to exist without anyone claiming to be their "author" (as Roze liked to call himself). Rather, the sale of restorative bouillons was a credit scheme that generated funds for the monarchy. That is to say, the "invention" of the restaurant was one of Roze's many business ventures that set out to rescue France from debt. Through the circulation of credit notes, Roze proposed to solve the currency shortage that, in his estimation, stood in the way of restoring the economy. As he saw it, providing the French with easier access to their wealth through credit notes would boost confidence in the state and establish economic stability. In the end, his plan failed, but the restaurant was such a resilient concept that not even the impending French Revolution could destroy it.
Taking issue with Jürgen Habermas's analysis of the public sphere, Spang offers an empirically convincing depiction of the emergence of "new common spheres" (86). According to Habermas, the bourgeoisie's "audience-oriented privateness" helped fuse the discovery of common and shared interests—or shaped how "public opinion" became a tool for political debate. Restaurants, as Spang points out, were no more than "public roofs over a series of private tables" (86). In other words, restaurants were neither specifically "private" nor "public" spaces, and therefore any interaction would not necessarily result in the exchange of rational brainstorming or enlightened debate. Instead, late eighteenth-century public life was just as much about one's ability to ignore other people as it was about the development of a discourse regarding the common good. At a restaurant, every customer could be treated like a queen or king, even if for just one meal. By making selections from a menu instead of settling for a share of the innkeeper's fixed fare, customers could re-invent themselves every time they ordered. Well into the nineteenth century, restaurants, still largely confined to Paris, were regarded as a peculiarly French idiosyncrasy. Tourists frequently traveled to Paris in the hope of witnessing the performance of Frenchness at restaurants. For instance, one American tourist was impressed that French women could be seen "drinking champagne, eating their vegetables in white sauce and even glancing in mirrors" (200), while another tourist described seeing "father, mother and children seated together at one table" as one of the highlights of his three-month trip to Europe (199).
Rebecca Spang's The Invention of the Restaurant is a critically insightful and wonderfully rich work of social history. This text is a valuable contribution to a variety of disciplines and areas of study, from anthropology to cultural studies, and the sociology of food to the sociology of knowledge. More importantly, one does not need be academically inclined to enjoy this endlessly fascinating and endearingly pleasurable tale of public culture. Moreover, Spang's upbeat personality permeates each chapter providing a refreshing change of pace from the sometimes dry prose of nineteenth-century historians. So, if you find yourself longing for a taste of "Frenchness," or craving a seven-course meal, but cannot quite afford it (or are not sure how to appreciate it), indulge in The Invention of the Restaurant for some relief of high distinction.

Marie Sarita Gaytán is completing a Ph.D. in sociology at the University of California, Santa Cruz. Her research interests include consumption, citizenship, globalization, and identity.